Spätzle, Lamb Chop & Salad
Spätzle? Oui, oui… and I love them. Alright, not very French, but who's French here? Pyrenean Gascon mountain girl comes first! So that works for the lamb…Humm! what about the Spätzle? I certainly never had them in the Pyrenees.
I acquired then via more Luxembourgish and Germanic influences. There are simple, delicious, nutritious & cheap to make.
This recipe fed me two meals:
First meal: spätzle with sautéed bacon and lots of fresh grated Parmesan cheese
Second meal: with pan fried lamb chop cut in from my local Turkish butcher.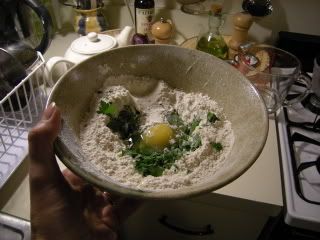 Batter: 1/2 cup whole wheat flour, 1/2 cup white unbleached flour –i could have used only white flour–


Salt/pepper/nutmeg/parsley/1 egg/ 1/4 cup of water or enough to dilute it to a paste, and voilà the batter is ready


My set up at the stove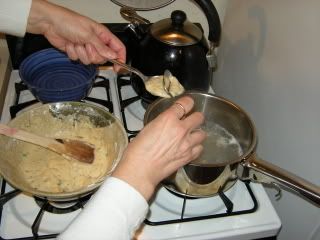 How to do it: I dump small amounts of dough in boiling water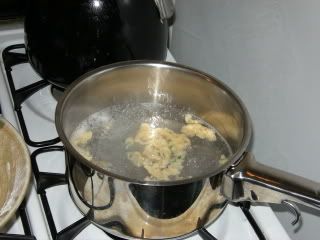 Once they come up to the surface, they are cooked! I drained and reserved them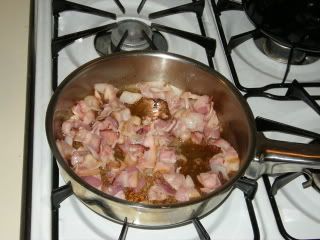 I sauteed some onions & bacon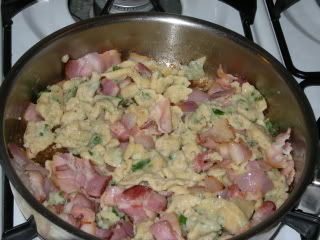 Returned the drained spätzle to the pan, mixed them in and also added a little water to loosen up all stuck juices at the bottom of the pan…I really didn't want to loose these "sucs" (not suck, i will have to explain "sucs" another time, remind me if i forget or if you really want to know, send a comment!)

Served with generous fresh grated parmesan cheese and fresh ground pepper
But the best was two days later: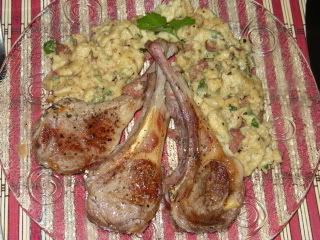 I reheated the left over over Spätzle in the cast iron pan in which I pan fried 3 delicious lamb shops. I complemented it with my favorite –and famous– simple green salad. The video for the green salad is available at:https://www.nicolepeyrafitte.com/cooking/cookingmemorabilia.html. It's a segment of the cooking show: "Voilà Nicole!" (Producers Joseph Mastantuono & Nicole Peyrafitte). More info on that will be available very soon at: http://voilanicole.com/

Voilà pour aujourd'hui! Please send comments.