HOME MADE CHIPS
1- Peel potatoes. I made 2 batches. For the first batch I used 1 Russet potatoe and for the second batch 1 Yukon. The Yukon is tastier. To cut the potatoes really thin I used the potato peeler ($1) and let them soak in cold water for 10 minutes.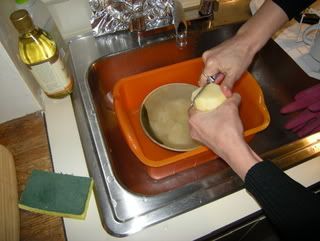 2- I drained the potatoes in a colander & dried them really
well.
3- In my small wok I poured the whole 16 Fl.OZ bottle of safflower
oil and turn the heat high.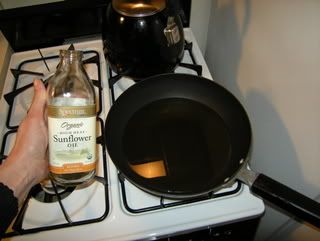 4- I test the heat of the oil by carefully holding the end of one chip into the oil. If the chip "fries" then it is hot enough & I can gently slide my dry potatoes in.
5- When the chips are golden I remove them with a slotted spoon and drain them on a paper towel.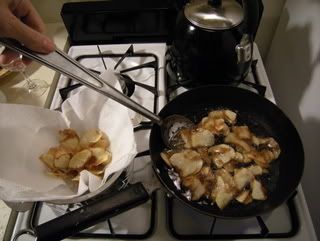 6- Salt & pepper to taste. Set on a plate and it is ready to serve. I
hate the first batch while I made the second! I repeated the steps to fry
the second batch making sure I removed all the small bits & pieces form
the oil. Also I did let the oil return to high temperature before frying the
rest.
7- The oil can be reused a few times. I waited for it to cool and then strained it back into the bottle that I label and save in the fridge.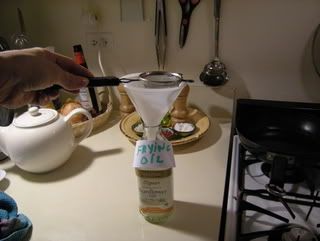 8- My chips were delicious — though I have to confess that they are not exactly like my grandfather's, mostly because we had professional deep fryers at the hotel so that make much crispier chips.
Voilà et Bon Appetit!