When I walked from 25th Street in Manhattan to Park Slope a few weeks ago, I came across this store on Greenwich Street. I have seen chips displays before at grocery stores, but never as a display window facing the street. It looked like some art installation: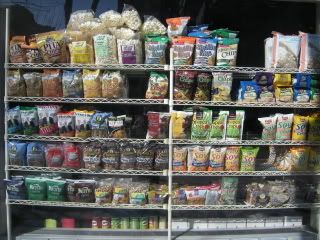 Chips, chips & chips & more chips. Two big windows full of chips! I don't
eat chips. One: I don't snack, two: I rarely eat sandwiches or hamburgers, so
not many occasion to find them on my plate. But I actually decline them when
they are offered, unless I know they are homemade. Commercial ones are always
too salty and I don't like their taste.
But this display brought back some nostalgic memories of my grandfather Joseph Peyrafitte (1891-1973):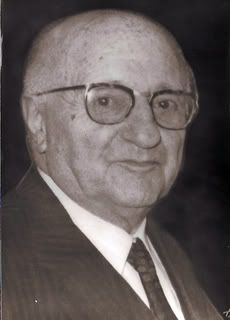 Bon Papa Joseph, as we always called him, presided over the family hotel-restaurant kitchen in Luchon, French Pyrenees, all his life — except when he went to England as a French apprenti cuisinier (I am trying to find out more about this part of his life, because it was the time when Escoffier was there too! Though my grandfather is younger, I always wondered if he ever met him) and when he went for his 4 years of military service, followed by 4 years of war. So, the potato chip display brought me back in time; below is a scan of a page taken from one of his many menu notebooks (merci Pierre!). This one is dated May 31, 1965, and the P. Chip or Potato Chips are served as an accompaniment to Cailles
sur Canapé: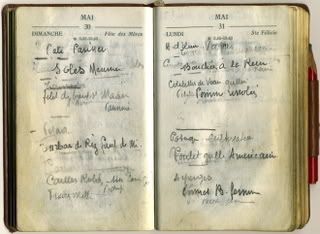 The Wikipedia's entry for potato chip informs us they were invented by George Crumb in 1853 in Saratoga. Well, I don't want to take any credit away from Chef Crumb because I really like the story. But anyone with potatoes and enough oil could cook some! Anyhow, there is no entry in my first edition of the Dictionnaire Universel de la Cuisine (1890's), but the Wikipedia site tells us that Alexis Soyer published a recipe in "Shilling Cookery for the People" in 1845. I did find an entry in my grandfather's Escoffier (2nd edition, 1907):

So this is it for today. The next post will feature the making of potato chips at home. I made some tonight, but it is too late to keep doing this blogging thing! I rode my bike 14miles/22kms — see the map below — plus a pretty intense yoga class… I need to sleep!
Happy St Patrick's day and looking forward to Saint Joseph's day on March 19th!