The tastiest, simplest, fastest & best Mousse au Chocolat.
Yes, there is a valid concern about raw eggs and this is my feeling on the subject:
At my family restaurant-hotel, where I was born & raised in the French Pyrenees, the eggs would be delivered once a week in crates of 24 dz. They were stored in a cool, but non refrigerated room, called "le garde manger". Roots vegetables, fruits, canned goods, condiments, spices, oils & eggs where also stored there. They were really fresh and then many recipes with raw eggs found their way on the menu: Mayonnaise, Steak Tartare, Mousse au Chocolat and even on the cocktail menu with Porto Flip (weird cocktail made with port, brandy and egg yolk, plus nutmeg). So today I still make recipes with raw eggs but I always make sure of their freshness and origin,  I buy them at the farmers market and let know the farmer I will use them raw.
This recipe today, though very similar to the one we made at the "Hotel Poste & Golf", was passed on to me by a woman I knew in Albany and she told me that it was a Pierre Franey's recipe published in his "60 Minute Gourmet" column for the New York Times. I don't have Franey's New York Times 60-Minute Gourmet
with me, so I can't check if it is in it.
Speaking of Pierre Franey I met him once in 1990 in San Diego where I lived for a few years. Several celebrity chefs came to town to cook a March of Dime charity dinner. Among them was my Gascon childhood friend Ariane Daguin owner of d'Artagnan, It went to give her a hand to prep & set up her dishes. Pierre Franey was there with his wife, both very kind people, I truly enjoyed the food conversations and he remind me a lot of my grand father chef Joseph Peyrafitte. I am glad this picture survived all my moves.


Moi (Nicole Peyrafitte), Pierre Franey (1921-1996), & Ariane Daguin
Back to the mousse:
Ingredients per person:
1 ounce of very good chocolate (60 to 75% dark great quality chocolate)
1 teaspoon of water
1 egg
And yes! only 3 ingredients.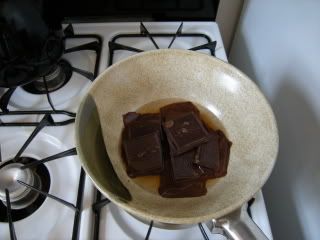 Melt water + chocolate on the stove in a bowl on a double boiler.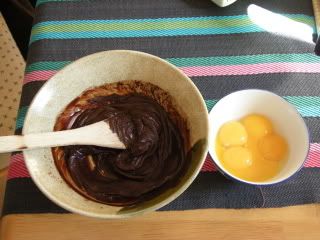 Once the chocolate is melted,remove it from the heat & stir it well.
While it cools down I separate the eggs.
Egg whites in a clean & dry bowl, and the yokes on another one.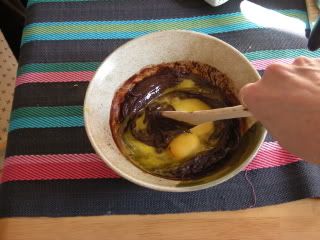 Mix the yokes in with the chocolate.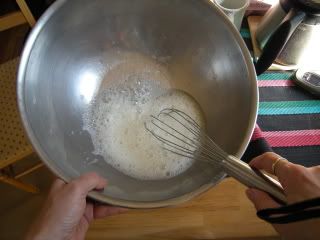 Add a very small inch of salt and beat the egg whites very firm.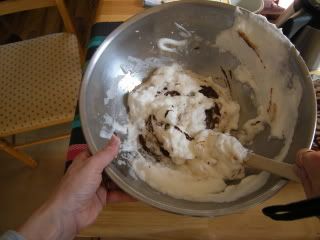 Fold half of the beaten egg whites into the chocolate & egg mixture.
Then very gently fold in the second half.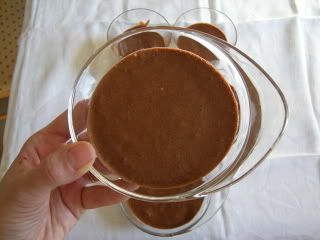 I made it for 5. Pour in individual glass dishes & refrigerated for 4/5 hours minimum.
Can be made the day before.